News about what's been
happening at
C&M Motorcycles.

PHILLIP ISLAND CLASSIC 2019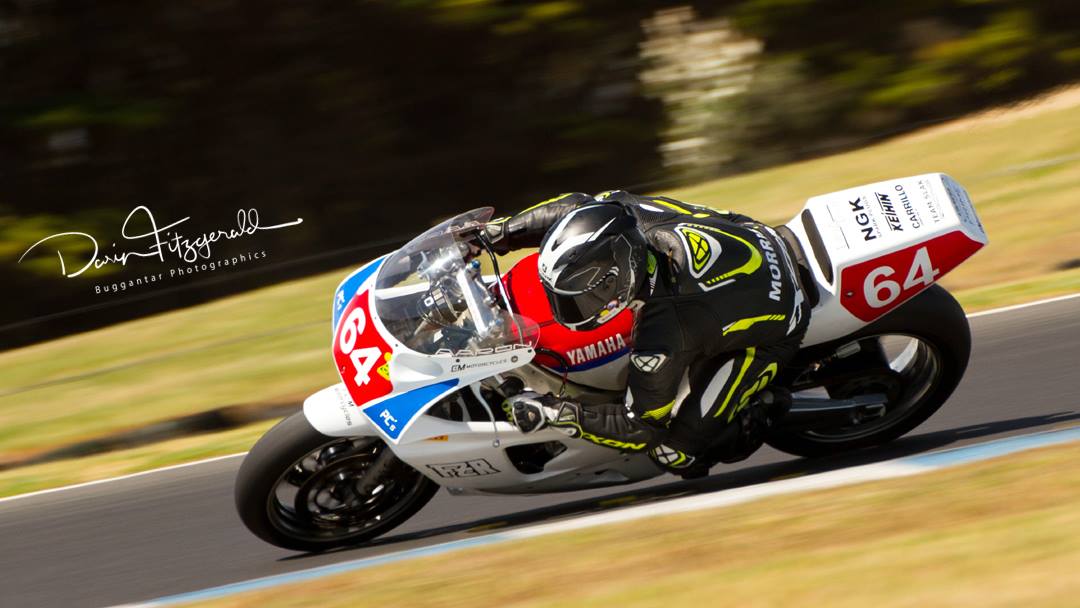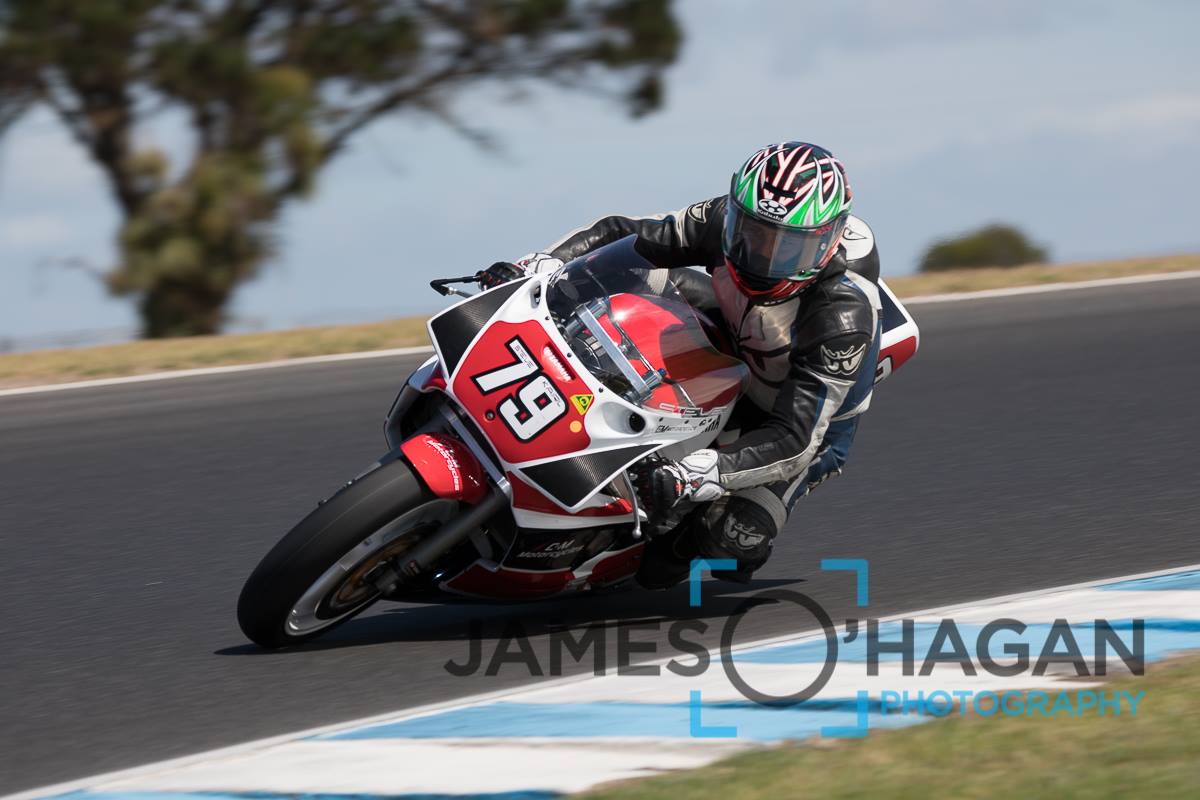 Great weekend for us at the 2019 Phillip Island Classic. Steve Kairl had a few things that didn't go his way when the racing started. He qualified well and had a good race 1. Races 2 and 3 were hampered by too much wheel-standing backed up by a failed front tyre warmer. He still managed 7th overall and I know we'll bounce back for the next meeting.

Aaron Morris was on fire all weekend. As he was also competing in the International Challenge for the Australian team, he concentrated mostly on being right for Team Corish on the Katana. He put the P6 FZR1000 on pole and won all four races to secure the overall. We were hoping for an official new lap record which we had except for a timing failure in race1.

After the gearbox issues in the feature races on the Katana, Aaron was ready to let out a little frustration so two new tyres were put on for the last race. He absolutely smashed it with a new lap record of 1:36.398 to finish the weekend.

Aaron is the complete package when it comes to racing. He rides the wheels off the bike, gives feedback second to none, helps all weekend working on the bikes and it's a pleasure to have him and his dad Graeme involved with the team.

We'd like to thank everyone for their help during the meeting. Cheers to Steve Kairl, Graham Kairl, Steph Jones, Brian Stewart, Graeme Morris, Aaron Morris, the Corish brothers and VP Fuels for all there time and effort.

Special shout out to my business partner Marty who helps so much with the bikes, then continues to work while I get to be involved on-track.

And to my darling Lorraine, who sends me off with a smile so I can be with all my mates doing what I love.

Thanks also to Phil Hall, Darin Fitzgerald and James Hogan for there pics.

Cheers, Craig Stewart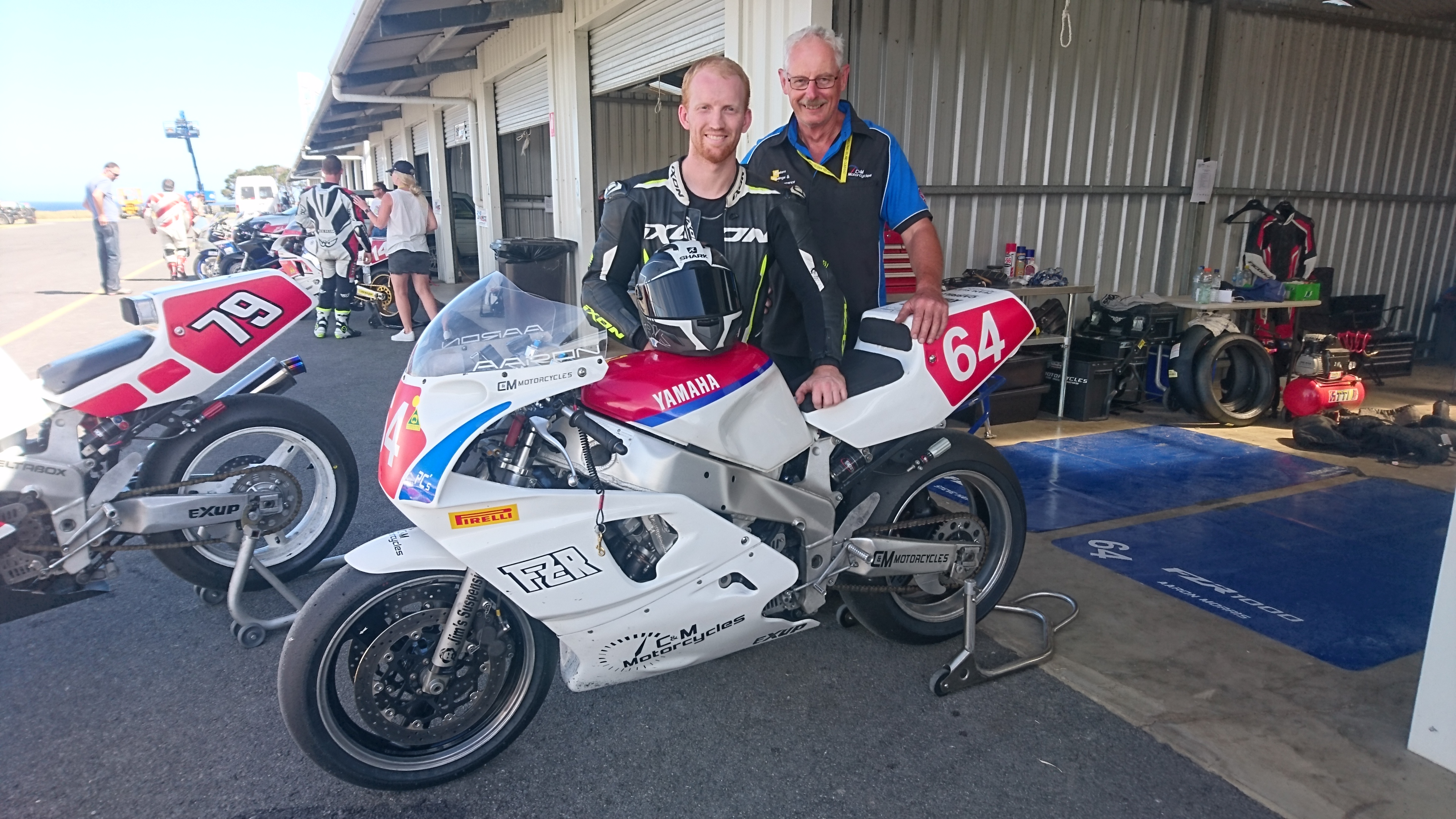 International Festival of Speed 2017
A couple of years ago we thought we 'd build a race bike out of an FZR1000 and try to win a few races.
Since then we've had a lot of success with Kevin Horton and Steve Kairl running up the front
and winning some meetings. WE built another bike last year and Craig rode it at the WSBK
support races in February. Now it's just had it's first meeting at the International Festival of Speed
at SMSP in the hands of Aaron Morris. Steve Kairl rode the other bike.
We are over the moon with the results.
Steve ran 4th in the P6 Top 50 class and 7th in the P6 Unlimited after he missed
scoring in one leg when it rained. He's also into the 39's with a new PB of 1:39.680
Aaron has won the P6 Unlimited and the P6 Top 50. He was unbeaten in the QBE Top 50 feature races
winning four from four. He's also just been pipped to the P6 lap record By Jeremy Williams, but a
1:35.301 on a 1990 model with the original frame, forks, swing arm and brakes was something to see.
He also nailed a 1:40.020 from a standing start and reached 270 km/h according to the GPS dash.
We've got so many people in our corner who have helped our little team to run with the big kids
of Australian historic racing but a special shout out to my best mates from Team Slak.
Also Doug from Chivo's, Darrin Treloar, PC, Macca, Kevin Horton, Steve and Graham Kairl,
Steve and Pete Ward and Aaron and Graeme Morris.
And thanks to everyone who shared garages 21 and 22. Most of the lads got trophies and/or PB's.
There were 14 bikes squeezed into a double garage yet we all had plenty of room to get the job done and
get up to some mischief. Cheers Craig and Marty.
Barry Sheene Festival of Speed 2014
March 21 to 23, 2014 saw C&M Motorcycles take to Sydney Motorsport Park at Eastern Creek with their Period 6 Yamaha FZR1000W ridden by Steve Kairl. Steve, an A grader who normally competes in the smaller classes, would be having his first ride in anger on an unlimited class bike.

The bike won the class at itís first meeting last year in the hands of Kevin Horton. A few changes have been made since then including some geometry tuning, fork springs and some new Keihin FCR carbies to replace the previous damaged set. We were feeling confident after Steve completed a ride day on the bike in the lead-up to the event.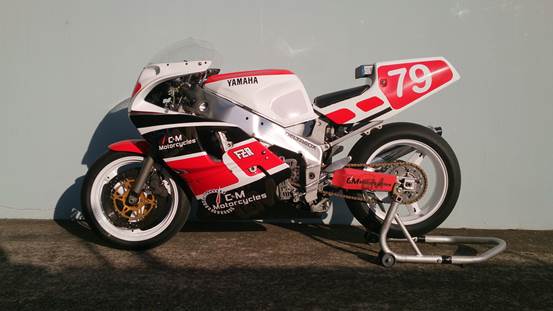 The weekend would consist of five Period 6 Unlimited races and the Barry Sheene Memorial with a very competitive field of riders. Cameron Donald, Michael Dibb, Robbie Phillis, Robert Cole, Alexander Pickett, Brett Clark, and Stephen Ward are just a few of the people we would be lined up against.

Friday 21/3/14

An early start found us at an overcast but dry Motor Sport Park filling with bikes and competitors, getting ready for the weekendís proceedings. Craig unloaded the old girl and checked her over once more, before running it up to scrutineering where it was stickered, ready to race. Once back in the shed, up on stands and tyre warmers on.

Practice went smoothly. For qualifying we fitted a new set of Bridgestone softs and sent Steve out. He managed to slot the bike into second outright on the combined grid of P6 750, P6 Unlimited and Pre-Modern F1 and F2 with a time of 1:42.57. Alex Pickett was on pole on his Ducati 851 P6 bike.

Race 1 and a great start by Steve saw him head into turn 1 in front and pull away to a couple of second lead. Alex Pickett on the smaller engined bike was amongst the pack and took a lap or so to get into second. He narrowed the gap each lap until with two laps to go took the lead between turns four and five, only to slide immediately off.

Steve went on to a comfortable eight-second win from Brad Phelan CBR900 (PM1), Rob Cole GSXR1100 (P6UNL), Stephen Ward GSXR750T (PM1) and Nigel Taylor FZR1000 (P6UNL). We were very impressed, as was Steve, to see he had improved again from qualifying, to post a 1:40.55, although Alex Pickettís 1:39.83 was very impressive as he chased Steve down.

Saturday 22/3/14

Again we where greeted with grey skies and a damp, but drying track, but soon after the riders briefing the track looked fast and was dry and ready to go. After a run around the shed to find a power point that worked to get tyre warmers up and running and also a quick service on the bike we were ready.

We were second race up on Saturday, and knowing we were 25 points up on Alex, Steve decided he would try to get the lead and run consistent 1:41ís and 42ís to secure first as we had a little margin on the others in our class. This worked out well with another outright and class win.

Race three of the five in the P6 class was run just after lunch. With the same aim as the previous race, Steve led from the start. After a few laps though the bike slowed in a few places and he pulled into the pits. The bike was running ok, but was going off song occasionally.

A quick check at the track was fruitless, so the bike was whisked away to the workshop where 30 minutes on the dyno found our problem and was quickly rectified. A failing ignition coil was the cause, and as we were going to replace the originals, we feel this shouldnít have been allowed to occur. After a few calm down beers the bike was loaded ready for the next dayís main event.

Sunday 23/3/14

A glorious morning, the best of the whole week, was waiting for us as the fog lifted. Riders brief was just that and soon after the pits turned into a hive of activity, getting bikes ready for the day to come. The bike received a quick service and fuel topped, plus the tyre warmers on, ready for our first race, P6 round four.

Again we were second race up. Steve got another cracking start and lead from start to finish, much to our relief. Even though we knew we had rectified yesterdayís problem, youíre always a little anxious until the bike is track tested. The next home were Stephen Ward, Brad Phelan, Robert Cole and Brett Clarke (OW01 P6 750).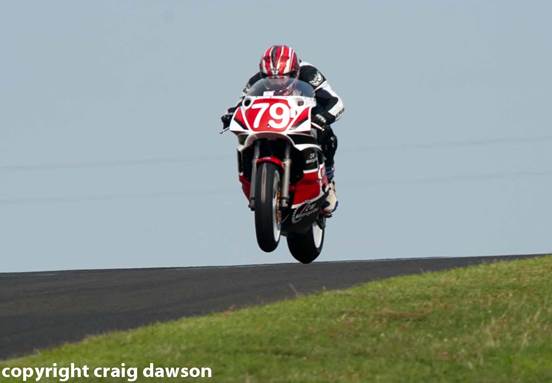 The main race of the weekend is the Barry Sheene Memorial Race, where the fastest forty log-booked bikes from the weekend from all classes take on eight laps of the GP circuit.

But first, the last leg of the P6 Unlimited, which was run two races after the main event. Steve did what he had to do and rode a conservative race to finish behind Brett Clarke and pick up another first in class. That gave him a total of 100 points from the five races and put him third in class.

Congratulations to Rob Cole for winning the event. Robís built his own bike and gets the best out of it and himself and is a much-deserved winner. Second was Nigel Taylor on his ex Marlboro Yamaha, which normally runs a lot better than it did this meeting.

Barry Sheene Memorial Race

The grid for the Barry Sheene Memorial is set from the ridersí times and Steve had ended up on the front row with Cam Donald (McIntosh Suzuki 1135), Michael Dibb (Harris Honda F1 1150) and Alex Pickett (Ducati 851).

We were very nervous, as was Steve. We were confident that the bike was very good, but until you line up in the big races, which are where we want to be, well, you just donít know!

Another great launch saw Steve into the first corner with the leaders and settle into fourth place behind Cam Donald, Michael Dibb and Rob Phillis. Putting his head down, Steve put in a consistent run of low 1:40ís to close the gap to Rob Phillis, while the two up front ran into the distance.

Halfway through the eight-lap encounter the C&M FZR1000 went past Robís GSX1200 Suzuki down the main straight and onto the podium. Steve continued to reel off the lap times, setting his fastest lap of the weekend on the seventh lap. A 1:40.181 was very rewarding for all of us, considering itís just the second race meeting for the bike and Steveís first crack on a large motorcycle.

Steve was knackered at the end of the race, commenting that it was the most fun heíd ever had on a motorbike. We were rapt, and are very grateful to everyone who has congratulated us during and since the event. Weíre especially happy that Steve Kairl is riding our bike as heís very laid back, an extremely competent rider, but more importantly, a very nice young man who is a pleasure to be with.

Thanks to everyone who has helped us with the project so far, especially to Kev Horton who rode the bike previously, but unfortunately suffered a broken arm before the Island Classic. Also a big thanks to Darin Treloar for the engine advice, Terry McKinnon for the paint, Peter Campbell for the help and for setting us up with Steve Kairl and Jeff Byron from Design Effects Signage for the new design and graphics.

Big thanks to the PCRA and Annandale-Leichhardt clubs who do all the work to get this meeting running, plus all the other volunteers who organise, marshal or wave flags to enable everyone to go racing.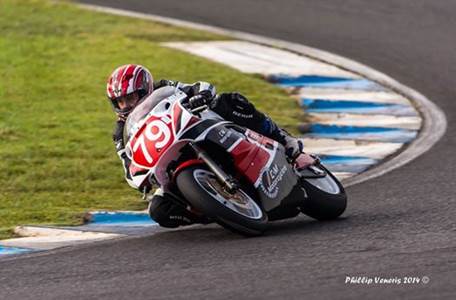 ---
AMCN INTERNATIONAL ISLAND CLASSIC

January 24th-26th sees the annual running of the Island Classic at the world
renowned Phillip Island Grand Prix Circuit.

Headlined by the International Challenge for Forgotten Era machinery with
the best ten riders from Australia, Great Britain, New Zealand and the USA
competing.

This year sees Isle of Man TT legend John McGuinness competing for the
British team head to the Island for the first time. He joins regular British
team members Jeremy McWilliams, as well as Aussie stars Shawn Giles, Steve
Martin, Beau Beaton, Rob Phillis and Malcolm Campbell in a star-studded
line-up.

C&M Motorcycles will be represented in Period 6 by Kevin Horton riding the
C&M FZR1000 racer at Phillip Island for the first time. Alot of work has
gone into the bike since it was last raced to victory at the Barry Sheene
meeting early in 2013.

Terry McKinnon will be back on his immaculate TZ750D, one of his last
meeting on his standard bike as his new YZR750 replica machine nears
completion.

Unfortunately co-owner of C&M Motorcycles, Craig Stewart, will be forced to
sit out this year's event after a crash in New Zealand in October has
resulted in him and his OW01 Yamaha sustaining damage which has put him out
of racing for another month or so.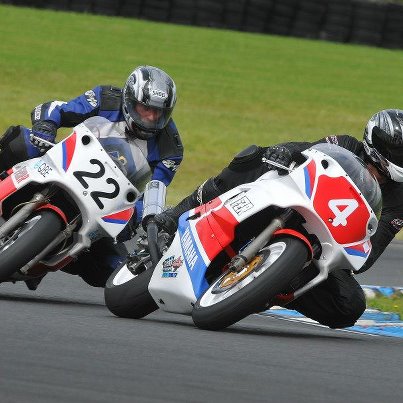 ---
Just to wet the appetite....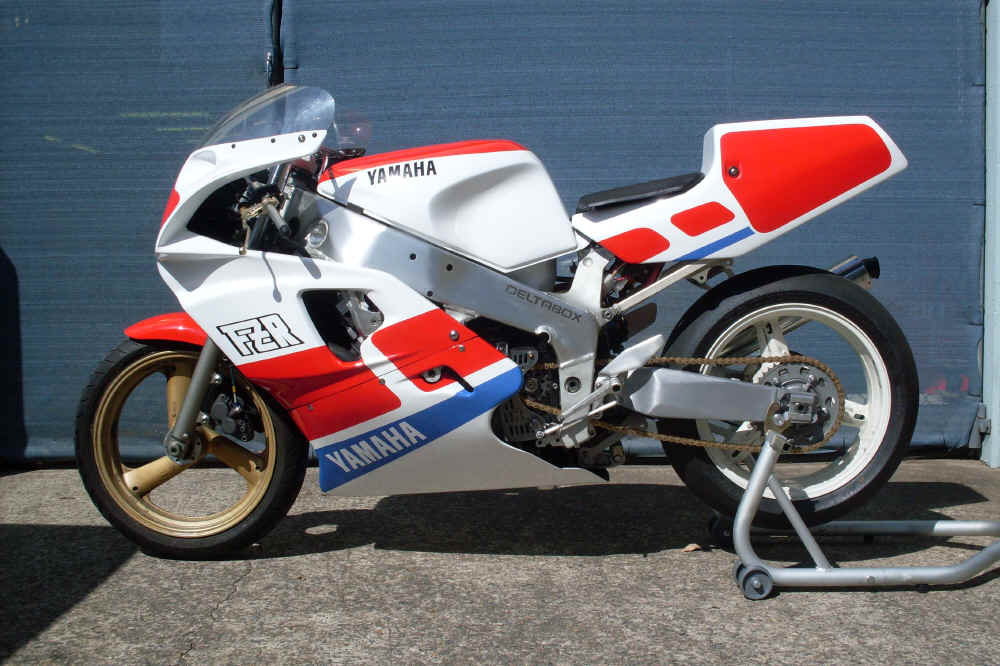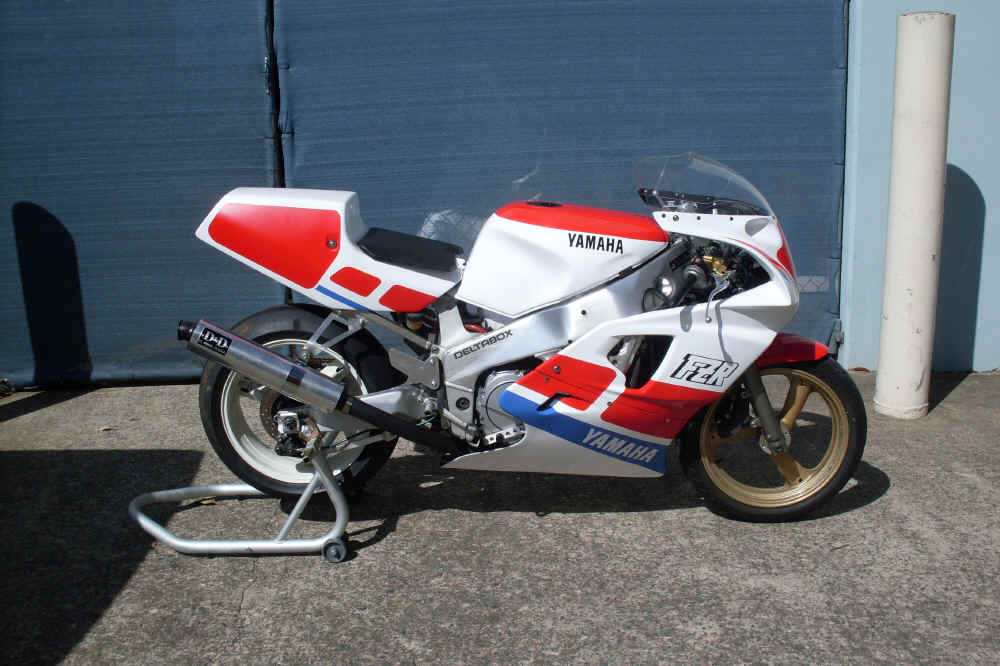 More to come.......
---
C&M Motorcycles Barry Sheene Festival of Speed Race Report 2012

Rider-Craig Stewart

After racing at the island classic with my 1000 motor in my OW01 I decided
to put the original 750 motor in for the BSFOS and run in two classes. In
the P6 Unlimited running amongst the Pre Modern class I qualified 15th with
a 1.50.2. In the 2 Saturday races I was slow away and ended up 17th and 14th
with a best lap of 1.48.97.

On Sunday morning I fitted some 2nd hand Metzelers for race 3 to save my
other tyres for my last 750 race. After seeing the track lined with cement
dust on the warm up lap, I made up my mind to start at the back and use the
race for a practice run. Managed to get back to 20th with a best lap of
1.50. I didn't do the last unlimited race as I'd had a good weekend already.

In the P6 750 class I qualified 7th with a 1.51.68 which put me 4th in
class. Race 1 on Saturday arrives and on the warm up lap Jason Light and
Brett Clark both had trouble so I managed a 4th outright and 2nd in class.
Race 2 I was 5th home but a 10sec jump start put me back to 4th in the 750's.

Race 3 was on Saturday as well and after a poor start I managed to get back
to 3rd outright and 2nd in class after points leader Jamie Smith had bike
trouble which put me into 1st in the points with one race on Sunday to run.
Best lap Saturday was a 1.48.96.

On Sunday I just needed to get to the line ahead of Steve Anderson to get
the win. I decide to keep the Metzelers on that I used in the unlimited race
after they felt better than the near-worn-out Bridgestoneís Iíd been using.
The race was reduced to 4 laps and I stuffed the front row start to be 8th
into T1 and 10th out of two. I tried not to worry and settled down to make
sure I at least finished the race managing to close the gap to Steve to 4
secs with 2 laps to run. Lap 3 was my PB for the weekend with a 47.66 to
Steve's 50.9 putting me close enough on the last lap run down the straight
to draught past and get the overall by 0.12 seconds after 4 races.

It was hard luck to Clarky, Jason and Jamie who all had superior speed on
me, as well as Peter Fryer on his FZR400 who should have rightly claimed 1st
in both the 500 and 750 class as he kicked my arse every race.

Happy days in our corner of the pits as our crew managed to also get the
silverware in the P5 750's with Terry McKinnon taking the win on his Yamaha
TZ750 and Chivo with Terry's son Matt as passenger winning the P5 sidecars
on his TZ750 powered Windle outfit.

Thanks to everyone who said hello over the weekend, my fellow competitors
for there rivalry on track and friendliness in the paddock. At the
presentation, Shawn Giles reckoned that competing at these types of events
is equivalent to his 3 Aussie Superbike titles, high praise indeed. After 25
years away from competing I can only agree.

PS. It was a frightening crash for Keith Higgs on Sunday and I hope he has a
speedy recovery from what looked at first reports to be very serious injuries.
Get well soon.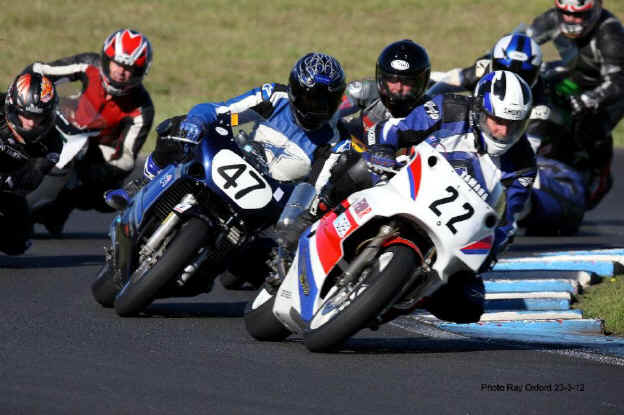 ---
C&M Motorcycles Island Classic 2012 Race Report
Itís Wednesday 25th of January and Iím off to Australiaís premier race track
at Phillip Island to compete for the first time since 1989. In the van with
me is my brother, John, down from Brisbane and my 1989 Yamaha FZR750R
(OW01). Tomorrow will be my first taste as a rider at the famous circuit,
although I did compete there as a passenger in the sidecar race held during
the inaugural GP in 1989.

Practice on Thursday included 5 sessions so I could get myself up to speed.
I am in awe of the circuit, wondering how Iím going to gain any consistency
as the speed of the track makes it very hard for me to find braking, turning
and exit points. The bike is flying though and it needs only fuel and a
check over to keep it singing.

Friday is practice and qualifying. Iím entered in the Period 6 Unlimited as
Iím using my 1000cc motor. Itís running Keihin FCR carbs, a little extra
compression, a nice cam combination and some porting and puts out around
150HP. The 2 practice sessions and 1 qualifier go OK although itís very
tricky because the session before ours continually leaves oil around the
circuit. My best lap came in the first session with a 1.56.96.

The second qualifying session was on Saturday morning and with the track
looking good I managed a 1.54.57 to get into 5th place on the grid which I
was pretty chuffed about. Race 1 dawns and I admit to being a tad nervous. I
try to make a traffic light start and get a great start, only to get swamped
by being cautious on the first lap. I've never used tyre warmers before and
I couldnít convince myself to push as hard as the others for the first half
lap or so.

As the weekend unfolds I push a bit more on the opening lap and manage to
keep the leaders in sight for longer each race. Iím happy with the results,
gaining 3 6thís and a 7th to end up with 4th place in class at the end of
the meeting, setting a PB for the weekend in Race 3 on Sunday morning with a
1.51.82.

Next meeting will be the Barry Sheene meeting in Sydney and I decide on the
trip home to take the 1000 motor out and go back to a 750. The 1000 would be
fine at Eastern Creek, but at the island itís too fast for me. I had a lot
of trouble settling into the track because the bikes just too fast!

Thanks to my wife Lorraine for letting me go racing again, John for making
the trip from Brisbane, all the other riders for there help and company and
all our crew in the garage who helped out over the weekend. Most importantly
I must thank my business partner Marty, co-owner of C&M Motorcycles for all
the effort heís put in over the years to help prepare such a great bike.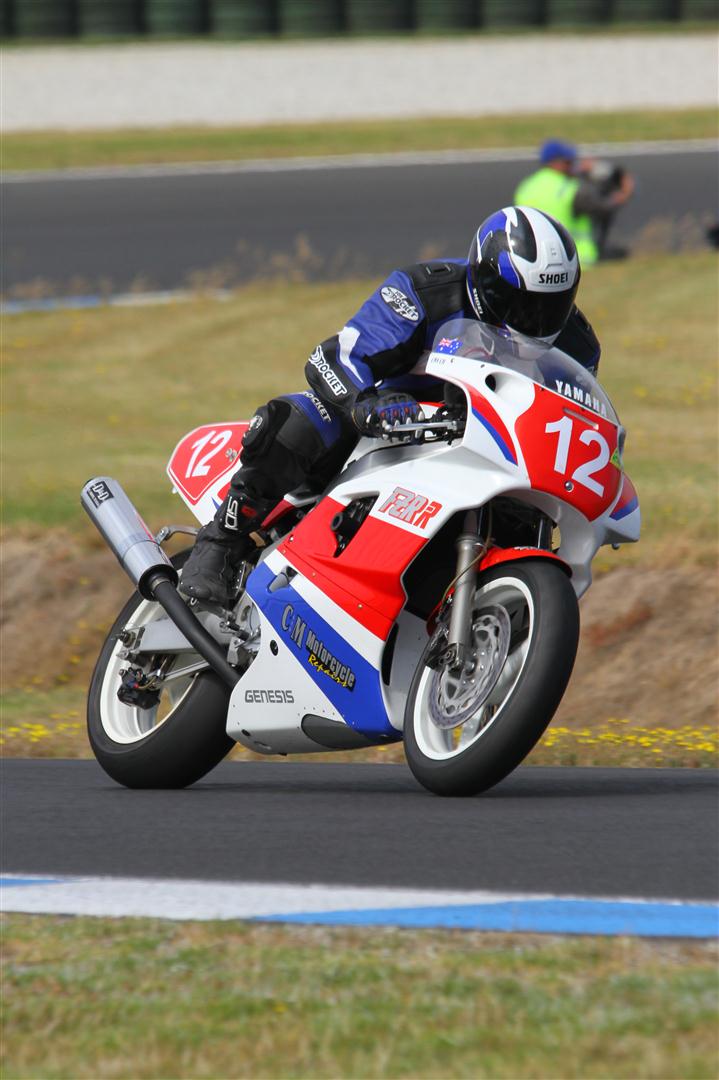 Rider-Craig Stewart
---



















---